Willmar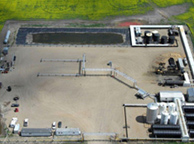 LSD: 11-36-5-4-W2
The Willmar waste management facility provides for the treatment, processing and disposal of oilfield byproducts generated by the upstream petroleum industry. Our facility offers waste management, truck/tank washing, steaming and water disposal. Accepted products include crude oil emulsions, tank and vessel residual solids, hydrocarbon contaminated soils, produced water and drilling byproducts.
Plains Environmental is committed to protecting the environment through the proper design, construction and operation of its facilities. Operating with the highest standards of environmental quality, safety and compliance, Plains welcomes facility audits and visits by present and future customers.
Our Locations
Downloads
All documents require Adobe Acrobat Reader. Click here to download.