Melville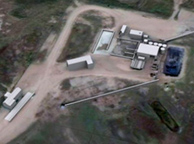 LSD: 6-29-22-06-W2
The Melville facility utilizes underground caverns that were originally designed for high pressure gas storage up to 3000 psi. This results in caverns that offer superior impermeability, safety, durability and an unmatched environmental integrity.
This world-class facility utilizes these sealed underground caverns along with the most demanding environmental standards to ensure the integrity of our operations. With the waste treated and disposed of in the sealed caverns all client liabilty concerns are alleviated.
The Melville facility can accept a wide varitety of waste streams including Oilfield Waste, Industrial Waste and Naturally Occuring Radioactive Materials (NORM).
Utilizing sealed underground caverns ensures there is no risk of airborne pollution. The nature of the caverns will also allow for eventual hydrocarbon recovery. We look forward to leaving only clean dirt and salt water in the caverns at decommissioning, ensuring no future risk to the environment.
Our Locations
Downloads
All documents require Adobe Acrobat Reader. Click here to download.